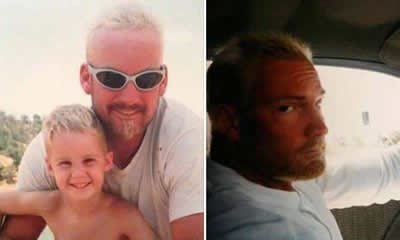 Christopher McDaniel
The incident began at 10:11 p.m. when a deputy saw a motorcyclist driving a 1998 Honda VTR 1000 at a high rate of speed through a residential neighborhood near Beardsley Avenue. The deputy tried to stop the driver, later identified as Christopher McDaniel, but he continued driving on residential streets through Oildale, Youngblood said.
Christopher McDaniel allegedly led deputies on a chase where he drove with "wanton disregard for the public" by speeding, failing to stop at posted stop signs or traffic lights, and traveling on pedestrian sidewalks. Deputies lost sight of him in the area of River View Park.
Numerous deputies searched the area and began monitoring intersections where Christopher McDaniel might appear. Deputy Aaron Warmerdam and Deputy Jeffrey Kelley kept watch on the intersection of Beardsley and South Plymouth avenues.
A short time later, Kelley saw Christopher McDaniel drive south on South Plymouth toward Beardsley. Christopher McDaniel reportedly lost control of his motorcycle and crashed in the middle of Beardsley.
He stood up and began running east on Beardsley toward Warmerdam, Youngblood said. Warmerdam pulled his baton and tried to arrest Christopher McDaniel while Kelley deployed his K-9, Luke.
Christopher McDaniel then pulled a handgun and pointed it at Warmerdam, Youngblood said. He said Warmerdam fell backward and pulled his gun.
Christopher McDaniel shot by deputies in Oildale after chase
Man killed in deputy-involved shooting pointed gun at deputy, fired one round
MAN KILLED IN DEPUTY-INVOLVED SHOOTING POINTED GUN AT DEPUTY, FIRED ONE ROUND