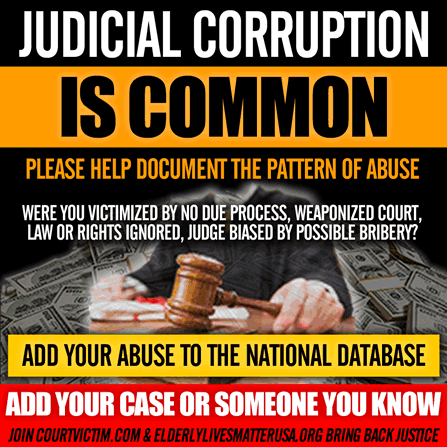 The public does not believe judicial corruption is at an epidemic level of MILLIONS of court victims every year.
This is done via bribery (see research your judge for proof). Gag orders, sealing records, but all done illegally in violation of law. The problem is judges ignore all law, rights, legislation or code of canon and the commissions on judicial performance ignore it all. The legal BAR is useless and involved. We have allowed lawyers to weaponize our courts to steal, rob, extort money by forcing innocent parties into courts where the playing field is fixed (the judge is bribed to approve anything one side asks for and deny everything from the other). This is so common, it's the norm. The only thing the public gets are fact terms "Justice, honor, oath, law, rights or due process". We are dealing with the "Fox guarding the hen house" trusting lawyers to govern themselves, control their friend and associates, many who went to law school together. The judges hide behind a false image of good, protector or fair judge the"Wolf in sheep's clothing" scam is taking place here.
It's simple, safe and quick. Records can be changed if needed via using the email you provide.
This is NOT about providing your actual physical address, instead only to count court victims in each state and county. Email newsletter will be sent with news of protests, changes, legislation and court victims in your area. You have the option to not receive the newsletters.
---