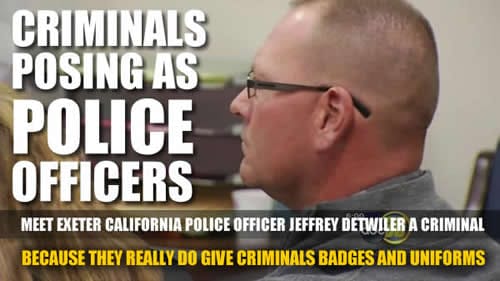 Do we really know who is hired by our Police Departments across America? The answer is "NO" and they don't screen them or test them as well as you might think. Proof is in the events that occur where its proven Police Officers are actually criminals. Meet Officer Jeff Detwiler who had sex with a minor. Now its also been found some top cops in fact are just as guilty, look at Los Angeles County Sheriff Lee Baca who resigned, which is often done so these criminals can keep their benefits and pay. While they should be looking at long prison terms and person fines in the end the tax payer loses.
EXETER COP ACCUSED OF SEX WITH MINOR IN YOUTH EXPLORER PROGRAM
Exeter police officer is expected in court Wednesday, after he was accused of having sex with a minor.
Officer Jeff Detwiler, 46, was arrested Tuesday afternoon. He's been with the department for at least five years.
Authorities say Officer Jeff Detwiler is also facing charges of possession of a controlled substance and for intimidating a witness.
He was booked into the Tulare County jail, with bail set at $75,000.00.
The Exeter Police Department is expected to release more details about the arrest Wednesday afternoon.
EXETER COP GETS 45 DAYS IN JAIL FOR SEX WITH MINOR
Exeter police officer (Jeff Detwiler) arrested for having sex with a minor
Officer Jeff Detwiler is accused of having sex with an underage girl and then trying to coerce her not to report the crime.

Tulare County Asstant District Attorney Anthony Fultz said, "Persuading a witness from testifying as well as a misdemeanor of possession of a controlled substance for being in possession of basically a steroid testosterone."
Investigators say the illegal steroid is mostly used for body building.
In a written statement, Exeter police say the investigation into Officer Jeff Detwiler has been going on for several months, and that the sergeant, was a role model of sorts to the victim.
"In mid-May of this year, Exeter police administration was made aware that Jeff Detwiler may be engaging in conduct of a sexual nature with an underage member of the departments Explorer program. Detwiler was an advisor for the Explorer post and has been with the department for 10 years."
The chief also added they're performing an internal investigation into his sexual relationship with the underage girl.
The Explorer program is run by the police department for kids ages 14 to 20 who are interested in joining law enforcement.
CA police officer Jeff Detwiler arrested for having sex with a minor, possession of a controlled substance and for intimidating a witness
Last Updated on 2 years by admin